The COVID pandemic has highlighted the drive for digital health. From telemed solutions to robots and AI, doctors needed to make changes more rapidly than they have been prepared for.
Digital health simplified health access and diagnostics, and it will open up new avenues(opens in a new tab) for patients seeking healthcare. In fact, in many ways, digital health will be the only avenue for some patients to receive appropriate healthcare.
According to The Medical Futurist(opens in a new tab), digital health is "advanced medical technologies, disruptive innovations and digital communication [which] have gradually become inseparable from providing best practice healthcare."
The introduction of digital health in meaningful ways will happen organically over time, but soon we will start to see the new ways in which patients, doctors, and the healthcare system all interact.
The American Medical Association's Take on Digital Health Acceptance
Part of this conversation does have to do with the receptivity of digital uptake in the medical community. According to an AMA study(opens in a new tab) conducted in 2019 (and 2016 previously), indicators measured before COVID showed that physicians seemed to be easing up on their resistance to health technology tools, stipulating that nearly half of all physicians inquired were excited about new technology.
In 2019, the report also found 87% of physicians saw some advantage in digital tech tools, but there still remained 33% who did not see any definite advantage to the technology.
Some saw the potential for physicians to provide remote care, reduce stress and burn-out, but the fact that not all physicians have been eager to make this switch is one of the major reasons digital health technology has not taken off in the ways that it can.
Digital Technologies That Health Have (and Will) Embrace
Digital health is expanding in so many ways. The Medical Futurists chart (below) shows us the many avenues that healthcare professionals and patients contribute to this growth.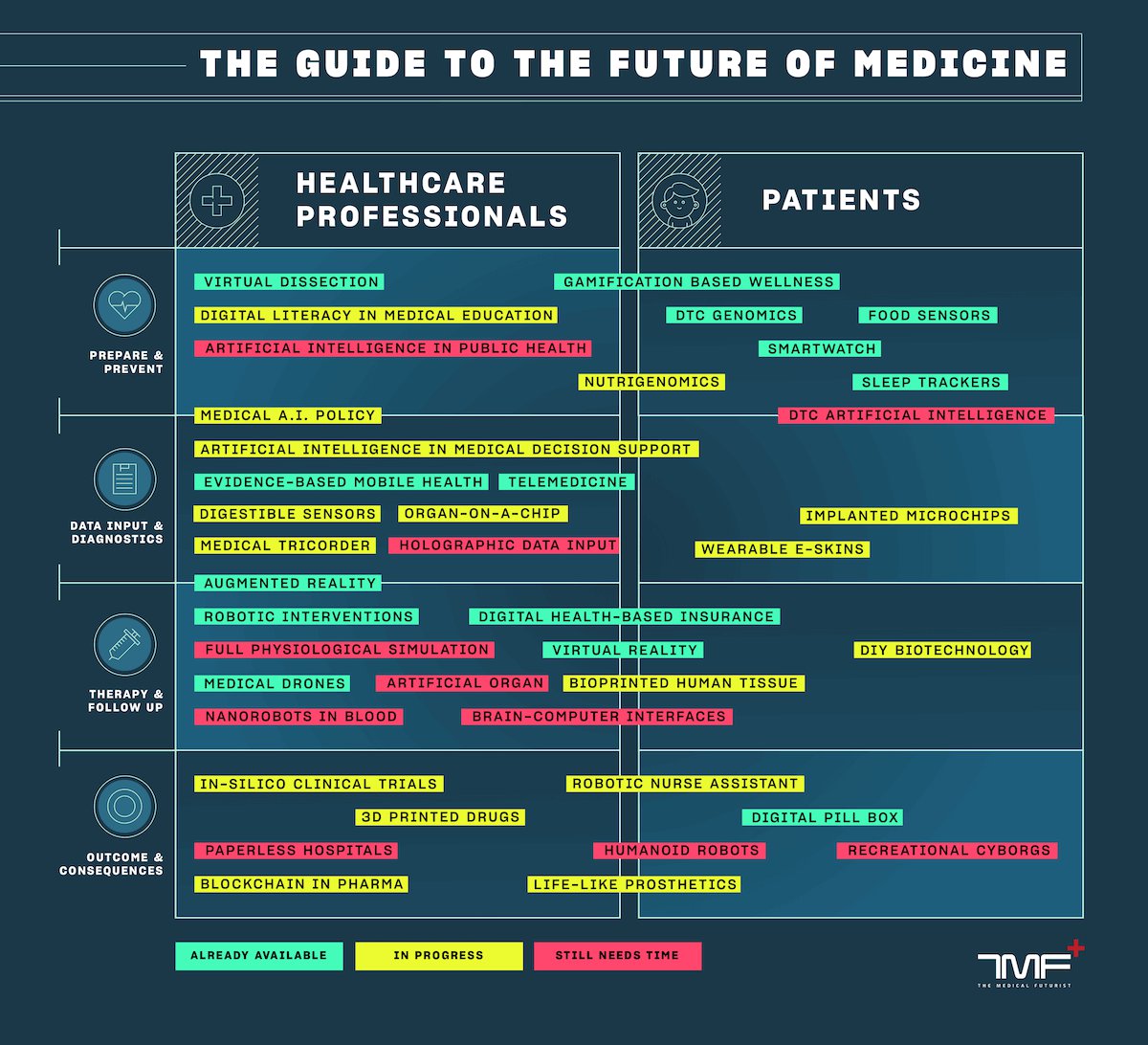 Source: TMF(opens in a new tab)
From nanorobots in our blood (which is not quite there yet) to evidence-based mobile health, the healthcare industry can expect emerging technology(opens in a new tab) to support preventative health(opens in a new tab), data input and diagnostics, therapy and follow-up, and outcomes.
We already have telemedicine, virtual dissection, robotic interventions, digital health-based insurance, virtual reality, augmented reality (AR)(opens in a new tab), and so much more, so it's wise that both health care professionals and patients become more familiar with this new way of interacting.
The New Frontier of Client-Patient Communication
When it comes to client-patient communication, there are several ways that we can expect change. To start, telehealth has already become popular given the COVID pandemic. Physicians were overbooked and stressed out, but people were still getting sick. And patients weren't exactly welcome to doctor's offices in the ways that we were used to. Even patients were getting stressed out!
Telehealth, evidence-based health, and insurance access on mobile devices streamlined this process, allowing more people to seek the treatment and therapies they are already using even during a tumultuous time.
Mobile app healthcare (referred to as mobile medical apps; MMA) is being offered and is even HIPAA and FDA approved(opens in a new tab). Two thousand seventeen statistics suggested that there were already 325,000 health care applications available for smart devices, with 3.7 billion downloads in 2017.
Now, of course, these apps vary widely in usage. Some apps are simply for health tracking. If you need to schedule reminders on your phone to take your medication, there is an app for that. Physical activity tracking also counts.
Here are some of the best apps for connected health:
Affordable, On-Demand Telehealth Apps
Whether you need physical or mental health(opens in a new tab), you can use a telehealth app like Doctor on Demand(opens in a new tab) and connect with a doctor on-demand. With Doctor on Demand, you can actually perform a video call with your doctor so you can put a face to the interaction.
Connect with medical providers, psychiatrists, and therapists and get prescriptions, consultations, or check-ups quickly resolved. Doctor on Demand is free with no subscription fees. You only pay a flat rate based on the service (if you are uninsured), or you put it through your health insurance.
Other apps like Teledoc(opens in a new tab) connect with patients similarly, but its goal is to help patients experiencing non-life-threatening illnesses. Teledoc is one way to avoid Emergency Room (ER) visits for minor health issues, freeing up critical time for busy ER clinics.
Like Doctor on Demand, Teledoc comes with affordable pricing for the uninsured. The app can also share information with your primary care physician if you want it.
Specialized Healthcare and Health Care Management
Some apps are available for specialized health care, like mental health(opens in a new tab) and dermatology(opens in a new tab), eliminating the need to go through time-consuming and stressful encounters with primary care physicians or clinics.
Specialized clinics like women's health are finally popping up, and this is key. Over half our population are women, and only 20% of the biotechnology market is dedicated to women. And even more niche than that, women aged 40, 50, and 60 are getting quickly bypassed. But with apps like Maven(opens in a new tab), which I highly recommend (they are making major waves in this area—they just received their Unicorn status(opens in a new tab)), we could see some growth in this area.
Other apps like ZocDoc(opens in a new tab) help patients with scheduling. You can also access prescription discounts(opens in a new tab) and Healow(opens in a new tab) for health record management.
AI and Digital Health Moving Us Into the Future
Within this selection of apps are video chats with doctors. We are also seeing Artificial Intelligence (AI) being widely used in these apps. The introduction of the Clare AI(opens in a new tab) into this space might have clinics using AI assist in more areas of health decision making, even being avatars, an AI medical health helper, or a chatbot.
While AI and chatbots are gaining use in research, patients will expect more online interactions with their physicians.
Digital interactions make getting the help you need much easier. Considering the rise of information and technology available, including self-help health(opens in a new tab), people are exploring health in new ways personally and empowered. They are figuring out what their symptoms could mean and are asking more questions. The drive of the self-help culture is also encouraging this push, as more people seek a more holistic approach(opens in a new tab) to healthcare.
Rather than addressing illnesses, more individuals are seeking health experts for preventative health and whole-body health(opens in a new tab).
Doctors who embrace technology(opens in a new tab) should also be prepared for a new kind of doctor-patient relationship.
Many doctors take the time to write out notes, either with pen and paper or on a computer. However, this takes away from the patient experience. Consider transcribing notes into EMR (Electronic Medical Records) before or after patient rounds like I do. This frees up mental space and time which can be better spent connecting with patients.
Transcription and recording devices, or talk-to-text technologies, AI, and other automation software can make this process move more smoothly. Instead of writing notes, you will be more engaged with your patient while they are there (either physically in your office or online!), and this relationship will be more fruitful!
Empowered Health Through Collaboration
There are many ways that physicians and clinicians can support this shift to digital health. Sciences like nutrigenomics and genetic testing provide new potential avenues for diagnostics, and doctors who embrace technology will be ahead of the curve.
By accepting the power of these new technologies (with an appropriate level of caution), you may find that your patients will be more receptive to hybrid care (health care that is collaborative with digital technologies, biotechnologies, patients, and physicians). This will become a more collaborative approach(opens in a new tab).