The Pittsburgh Marathon, sponsored by Dick's Sporting Goods, is only a few weeks away! To help you move you, we've outlined a few ways to help you get ready to run in the Pittsburgh Marathon.
Get the Right Shoes
To run a marathon, you need a great foundation in your body and on your feet.  Don't underestimate how important it is to have the right shoes.  The wrong shoes can cause injuries that can take you off the track and out of the running.
When choosing a running shoe, pay attention to your bio-mechanical efficiency.  Be aware of over-pronation. Pronation is your body's response to hitting the ground. Done correctly, it allows your feet to absorb shock. Over-pronation, on the other hand, can cause a wide range of injuries. If you tend toward over-pronation when you run, opt for a firmer shoe to keep your foot in a more neutral position.
Prevent Knee Injuries
Knee injuries are all too common with runners, but you don't need them getting in the way of completing the Pittsburgh Marathon. I describe the knees as being "caught in the middle" between the hips and ankles, and the pain can come from any of those structures.
The solution? Strengthen your core and your butt! Let me show you how and provide some additional tips on preventing knee injuries in the video below.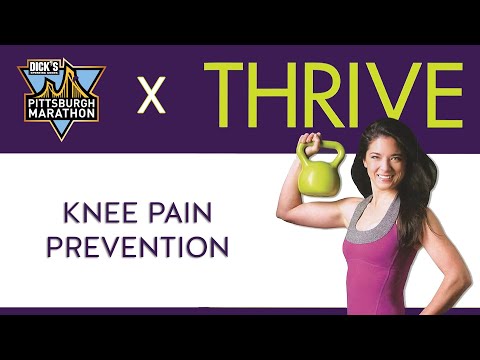 Conquer those Hills
No matter what the marathon for which you are preparing, you'll probably need the stamina to master several hills of varying degrees. A stable pelvis will help you conquer those hills. Watch the video below for exercises that will prepare you for any hill, in any marathon.
Jump Rope
A marathon may not be the school playground, but jumping rope is a great way to stay fit and build up your stamina. Jumping rope gives you an incredible aerobic workout in a very short amount of time. Grab your jump rope and do the skip jump or high knee jump. Mix it up and have fun!
Do Tempo Runs & Fartlek Training
Tempo runs are an important part of training for a marathon. Tempo runs train your neuromuscular system to move faster. Tempo runs are usually done at your 10k pace.
Fartlek training blends continuous training with interval training. The term "fartlek" means "speed play" in Swedish. You start out slow, then speed up and then slow down again. This maximizes your leg speed and your cardiovascular intensity.
The Pittsburgh Marathon will be here sooner than you think, so we hope you are already out there training! We can't wait to see all of you at the event!
Dr. Vonda Wright on Twitter and Instagram @DrVondaWright
Sign up for my newsletter Here!
Watch the HOT for Your Health video podcast for more motivation from our Women's Health Conversations experts!